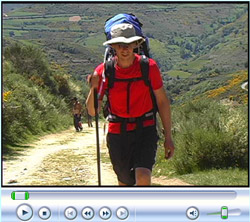 "Oh Ye Of Little Faith"
A Journey On The Camino de Santiago - by Paul Tobey
Filmed on location during Paul Tobey's 850km pilgrimage to Santiago de Compostella, this is a documentary of one man's journey of self discovery and creative inspiration. Join Paul as he introduces you to the famous Camino de Santiago in northern Spain.
-- We regret to inform you that because several thousand people have downloaded this movie over the past year, and the extra costs associated with the extra bandwidth, that this movie is no longer free. Sorry. But, if you're still interested in viewing it you can download it for nominal fee by visiting the Camino de Santiago Web Page. --
Produced, Directed and Music Score by Paul Tobey
Director of Photography - Drew Dekker
Executive Producer - Nancy Houle
Filmed on location on the Camino de Santiago in Northern Spain
Special thanks to the Monks of Santo Domingo de Silos
. . . . .