"Want To Watch Free Movies? Free Movie Downloads?"
Right now I'm presenting "Oh Ye Of Little Faith", a 40 minute documentary that you can watch for FREE. This is a movie about an 850 km pilgrimage on the Camino de Santiago in Northern Spain. If you've ever thought about making a pilgrimage this movie will enlighten and entertain you all at the same time. It's a movie about a personal journey of self discovery and creative inspiration. Walk with me as I introduce you to the famous Camino de Santiago in northern Spain.
Buy Music Inspired by the Camino de Santiago,
"Sarria Salsa" Only .49 cents!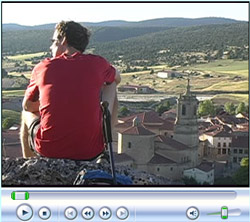 Buy This Movie On DVD
Bonus Feature - Newly Edited Version of The Brotherhood
Only 19.95 CAD ~ Click Here To Order Today!


. . . . .
Want more free movies?
For a limited time I am still presenting "The Brotherhood", a short documentary that you can also watch for FREE. This is a movie about a monk who believes in the healing power of music. Together we discuss love, music and creativity. I filmed it when I walked an 850 km pilgrimage on the Camino de Santiago in Northern Spain.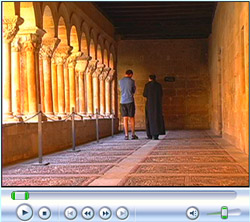 . . . . .
If you're not interested in any of my movies you can click this link to find other movies of interest...
Click Here To Download Free Movies and Music
My film falls within the genre of Spiritual Cinema.
What is spiritual cinema? Well, basically it's the art of filmmaking for the purposes of enlightening audiences on what's possible. The goal is to educate, inspire and motivate audiences. These are films with no guns, no violence and a message of hope and understanding.
How popular is spiritual cinema? It's actually more popular than you think. In fact there is an entire industry dedicated to producing these types of films and millions of people watch these films each and every years. There is even a Spiritual Cinema Club that you can join which sends you a DVD every month with new features and short films. What a great idea, for more information visit www.spiritualcinemacircle.com
Have you ever heard of these kinds of films? Yes, in fact here's a short list of what I believe to be some of the greatest films of all time and tops on spiritual movies lists;
So why am I so interested in Spiritual Films? Because I actually make them. In fact, so far I've made; a short documentary about a Monk that I met in Santo Domingo de Silos in Spain and I'm working on a feature documentary about my own 850 km Pilgrimage on the Road to Santiago in Northern Spain. Also, I've produced a DVD Concert Film of one of my concerts and I've edited interviews with some famous people like; Neale Donald Walsch (Author of Conversations with God), Steven Simon (Hollywood filmmaker), Geno Andrews (Filmmaker, "Jillian's Vantage") and Steven Pressfield (The Legend of Baggar Vance.)
I'm excited to be working in this genre and I look forward to produced some great films in the next few years.
If you are interested in spiritual cinema and would like to share your insights please send me an email. I am proud to be associated with the Filmmaking Community In Canada.
See you at the movies,

Paul Tobey
. . . . .