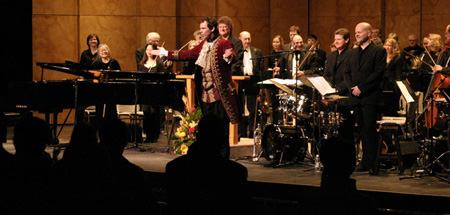 Standing O for Paul, Daniel Warren, BSO and Jazz Quartet (Photo by Jorj Takacs)
A Standing Ovation For Concert Pianist and Composer Paul Tobey and the Brantford Symphony Orchestra at the premiere of his All-New Epic Musical Masterpiece "The Road to Santiago Suite". Conducted by Daniel Warren with special guests the Grand River Chorus
"A Thrilling World Premiere" Brantford Expositor
Buy Now!

Road to Santiago Suite CD - A Musical Journey Through Spain NEW!

Inspired by Tobey's 850 km trek along the Camino de Santiago in Spain. 9 movements are a melange of jazz, classical, world, latin and folk music with lively themes ranging from a
Bossa Nova to a Salsa.

Buy Now!

Oh Ye Of Little Faith DVD

This very popular movie download is now available on DVD! Here's your chance to own this one-of-a-kind documentary, the very first film to be done by actual pilgrims while walking 850 km along the Camino de Santiago.
Here's what the audience had to say...
"The whole (concert) experience gave me shivers and made me laugh and cry." Loretta Ray, Pilgrim 2005
"Last night's concert was terrific. I have wanted to do the Camino for five years and I can assure you, your concert has helped solidify that goal." Leo Renzella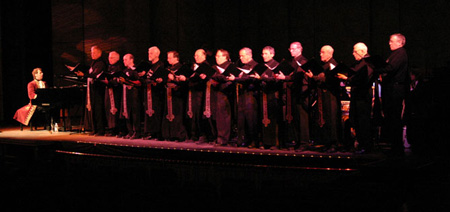 Paul Tobey & The Grand River Chorus - (Photo by Jorj Takacs)
"What a fantastic evening we had!!! I don't know if you noticed but after the first piece, a friend of ours jumped up and gave you a standing ovation. We all enjoyed the entire night immensley. I now would like to go to Spain. I gave a CD to our friends and I know they will enjoy it too!!!" Verna Timpener
"Congratulations on an excellent and entertaining evening. You should sell Celtic Santiago, especially, as a single." Dr. Norman Cuthbert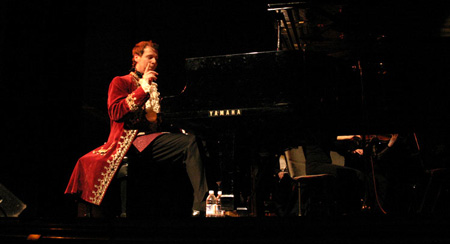 Photo by Jorj Takacs
"This evening's performances were splendid, from beginning to end. The Gregorian renditions were inspired and inspiring; your various - and varied! - movements were superbly conceived and delivered; and you gave the BSO an excellent opportunity to demonstrate their outstanding versatility - which they succeeded in doing. Truly an evening of fine entertainment. Felicitaciones y muchismas gracias; estuba bastante especial!" Iain Calder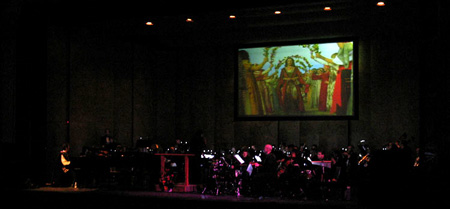 Drop Down Screen for Video Presentation (Photo by Jorj Takacs)


Song Title - Ultreia
Paul Tobey brings to life this re-adaptation of a 17th century song, written by a French Pilgrim, about how the Camino (Road) calls out to the pilgrims with each passing day and drives them "onward."
Song Title - Toro Santo Domingo
As pilgrims descend from the Pyrenees Mountains into the small town of Santo Domingo for the annual Pilgrim's festival, they enjoy the traditional running of the bulls and a vibrant music festival.
| | |
| --- | --- |
| Song Title - Burgos Bossa Nova - Preview Now | |
Many pilgrims face injuries that threaten their ability to finish the journey. While nursing one such injury Paul rests three days in Burgos and composes this seductive Latin melody.
| | |
| --- | --- |
| Paul Backstage | Photos by Jorj Takacs |
Song Title - Caminar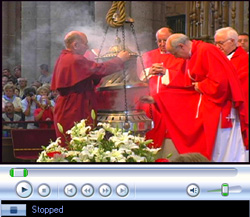 (Click on image to launch YouTube video page)
This is free video download footage captured along the Camino de Santiago by Paul Tobey in the spring of 2004. Caminar is Spanish for "Walking." The steady ostinato rhythm of this song mirrors Paul's walking pace. It is this melody and rhythm which energized him througout the 850 km pilgrimage for walks averaging 25 to 30 kms per day.
| | |
| --- | --- |
| Song Title - Meseta Winds - Preview Now | |

The playful winds of the Meseta plains are portrayed in this wispy, airy and light hearted up tempo composition. The winds may just be the only companion a pilgrim has in a such a barren landscape.
Song Title - The Road to Samos
The decent from O Cebreiro to Samos is the most beautiful walk of the entire Camino. The lush violin phrases symbolize the abundance of nature and express the humility a pilgrim feels in its presence.
Song Title - Saria Salsa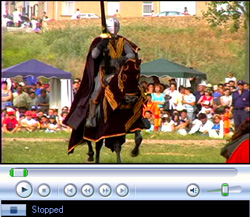 (Click on image to launch video page)
This free video download features the actual footage from Paul's 850 km trek on the Camino de Santiago and shows you some of the events that inspired Paul Tobey's compositions. After walking 25 - 30 kms each day Paul would sit down at his laptop and 2 octave keyboard and compose music relevant to the events of that day.
The song itself, Sarria Salsa echoes the atmosphere in Sarria. It is very festive and welcoming with plenty of open air cafes and restaurants. Observing the culture from a street-side cafe Paul echoes its energy in this vibrant Salsa composition.

| | |
| --- | --- |
| Song Title - Celtic Santiago - Preview Now | |
This lively Celtic melody reflects the joy, gratitude, sense of accomplishment and mixed feelings of euphoria and sadness as pilgrims arrive in Santiago which, for most, means the end of the journey.
Song Title - Finale Finisterre
As pilgrims reach the lighthouse in Finisterre "the end of the earth", they enjoy a quiet moment of reflection. Ultreia reappears to remind us that the journey has not ended but, is just beginning.
All songs composed and arranged by Paul Tobey copyright © 2007.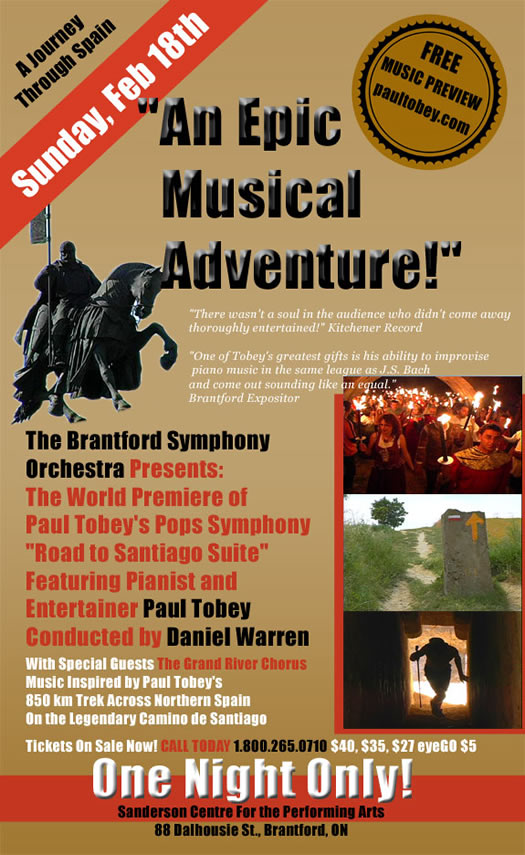 Symphony Orchestra - Concert Description
Symphony Orchestra lovers got a major surprise when the curtain went up in Feb 2007 up for composer and pianist Paul Tobey's new epic musical adventure "The Road to Santiago Suite."
Composed in 2004 during an 850km trek across northern Spain on the famous Camino de Santiago, Tobey is finally seeing his compositions make it to the big stage. And, according to his contemporaries, he's taking an enormous risk by presenting an eclectic mix of musical genres which stretch far beyond the the boundaries of traditional symphonic performances.
Just how far did he go? Tobey explains, "I walked across Spain to bring musical life to the Camino. Every day on the journey was a new and different adventure and I'm taking symphony orchestra composer liberties to reflect that diversity."
Music lovers enjoyed hints of jazz, classical, world, latin and even Spanish folk music." The symphony orchestra music was composed entirely during my 2 month journey through Spain and I also drew from my musical influences and diverse background as a jazz performer and entertainer," says Tobey.
Paul's music has it all; it's contemporary, it has memorable melodies, it has extraordinary rhythmic feel and it's just plain fun!"
Coupled with Tobey's legendary stage presence and infectious off-the-cuff story telling this concert is certain to be the must-see event if you get the chance at a theatre near you. "I guarantee audiences a good time," says Tobey. "That's what it's all about; making sure everyone is enrolled, engaged and entertained 100% of the time.
. . . . .