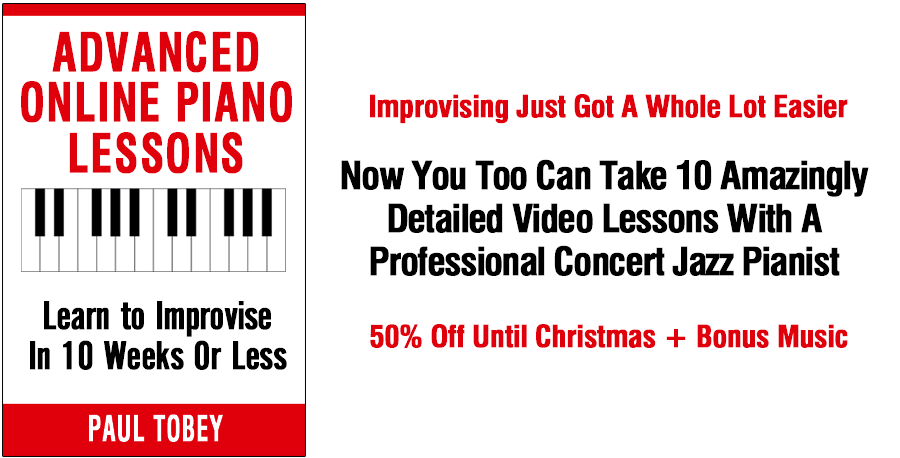 Are YOU ready to add some sizzling chords, dazzling improvisation and complex rhythms to your piano playing?
Great! Read on...
Dear Pianists,
There are very few opportunities on the internet to study with true professionals and even fewer that know how to teach. Picture an online video course that delivers the highest quality information, uses accelerated learning techniques and utlizes clear and concise step-by-step instructions.
That's the place you're in right now!
Hi, my name is Paul Tobey and I've been performing as a concert jazz pianist for more than 25 years. Now, it's time for you to learn and copy some of my greatest tricks of the trade to get you the exact same results!

Well, using my methods for learning and improvisation I've made 8 albums, 2 DVDs of live concerts, toured 16 different countries and have even been nominated for a JUNO award, Canada's top music honour.
Am I saying that you can become a professional?
Yes, I am! If that's your goal!
But, if your aspirations are not to turn pro, just imagine what your friends will say when you show up and perform amazingly without the aid of sheet music at their next party?
In just 10 video online piano lessons you're going to learn how to voice some amazing chords (chord inversions and extended harmonies), improvise on those same chord structures and virtually wipe out your dependency on written sheet music.
For example, how many times have your seen this?

Do you know what that means? And, if so, are you able to improvise over that same chord structure and make it sound beautiful every time?
And, what do chords like this mean?

How do you voice them? In other words, how do you decide what to do with your fingers? And, how do you decide what rhythms to play? All these questions will be answered with straight forward exercises to re-program your playing ability!
Oh ya, what do the little angled lines mean on the staff? I'll answer that too!
Sure, you can look these chords up on the internet and figure it out over time, you might even be able to learn some voicing... but, I guarantee you won't be able to do it in just 10 weeks!
By the end of this course you'll be so advanced you won't know what hit you! Furthermore you'll be having the absolute best time of your life you won't even seem like work.
Why?

In fact, the harder you work, the less you'll learn! Where have you ever heard a claim like that before? But, it's totally true and I mean every word of it.

Do you want to struggle forever and never become the pianist you know that you want to become? Or, do you want to be one of the special ones? The ones that get the applause and the attention? The ones that play effortlessly and sound extraordinary? Is that YOU?
You know it is!
Do you want to wait for musical success?

Do you want to waste your hard earned money with other so-called "quick-method online piano lessons?"
Or do you want proven time-tested strategies for long term success?
Do you want to learn from just anybody?
Or, do you want to learn from a 25 year concert professional?
You have choices, yes! So, why not make the choice to learn where you know you're going to benefit.
Let's take a look at some of the things you'll learn;
PLUS, a whole lot more!
Hundreds of mid-level players have taken these online piano lessons. Here are some comments from some of them...
Each information packed piano lesson contains the following;
Each Video Piano Lesson is between 45 minutes to an hour, filmed in studio with professional editing and superior sound quality. Play the following sample to view the quality of the filming. (Note: The actual video size is TV pixel ratio 720 X 640)
You'll also get a complete step by step workbook exercise whereby you fill-in-the-blanks with key words and phrases from the video lesson. This is an NLP (neuro-linguistic-programming) technique that is designed to accelerate your learning process!
This course comes with a beautifully put together sheet music exercise book which you will use, along with the video, to practice at certain times within a 7-day period using the 10-24-7 method. The exercises are easy to perform and will teach your fingers to move on their own.
You'll also get a special Tip-of-the-Day which teaches you professional performance concepts such as; how to get a bigger sound, how to sit at the piano, breathing exercises and more! Click below to preview...
I could seriously continue all day long about all the reason's do start these online piano lessons today but, there's really no substitute for actually doing it. I've used these techniques for years and they have helped me tour the world, record 8 albums and assemble a press kit 4 inches thick.
Don't misunderstand me, I do not say these things to impress you, I say this things to impress upon you how easy it is to learn these new skills and how important it is that you do not pass up this opportunity to take your own playing to a whole other level.
And, just so you do not underestimate the value of these online piano lessons...

...and professional musicians travel hundreds of miles to take them.
This series of online piano lessons contains the exact same information that I teach my private students plus, you get the added benefit of reviewing them over and over again.
And, because I want you to treat yourself and/or someone you love with the gift of music so until Christmas you can save $200!
Therefore, the cost of the entire course is only $397 $197.
Plus, if you buy before Christmas, you'll also receive the following 4 amazing bonuses valued at $76.87 FREE!
Bonus #1 - Lennon Beatles Songbook ($39 Value)

The Lennon Beatles Songbook
Classic Songs by John Lennon and Performed by the Beatles. Awesome piano music arrangements that will go perfect with your new piano skills.

Yesterday
Let it Be
Michelle
Lady Madonna
Hey Jude
Happy Christmas
Imagine
Imagine V. 2
Bonus #2 - Linus & Lucy ($9.95 Value)

Linus & Lucy Sheet Music
The Theme From Charlie Brown's Christmas Special Arranged by Paul Tobey. This special arrangement includes the classic theme by Vince Guaraldi with a piano solo as performed by Paul Tobey.

Dazzle your friends with this high energy rhythmically challenging piece. Perfect for your next party!

=> Click Here to Preview Now!
Bonus #3 - Paul Tobey's "Street Culture" ($19.97)

JUNO Nominated CD

This special CD was recorded by Paul Tobey and his Quartet in 2001.

It is a highly acclaimed album and you will enjoy many hours of careful listening to pick out all the imporvisational passages that will inspire you to put into practice what you will learn in the "advanced online piano lessons" video course.

The Netster
A Conversation With Ibach
Settlin' In
Ko-Gals
Adrian's Song
Street Culture

Paul Tobey - Piano
Mike Murley - Tenor
Jim Vivian - Bass
Terry Clarke - Drums

Total Running Time 67:50

(This is a digital download MP3 product)
Bonus #4 - Carol of the Bells Music ($7.95 Value)

Carol of the Bells Sheet Music
Arranged by Paul Tobey

Download this beautiful Piano Arrangement of Carol of the Bells by Award Winning concert pianist Paul Tobey. This arrangement is 6 pages in length and is professionally notated. It also contains a beautiful and challenging improv piano solo by Paul Tobey.
=> Click Here to Preview Now!
You really can't go wrong with an offer like that but, just so you feel completely confident..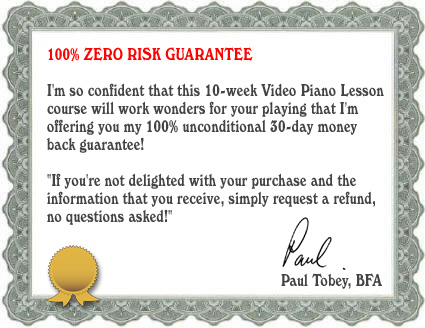 And, just so you know you really can't lose here; when you order this program and discover that for any reason it's not for you, you can request a refund within 30 days but you can also KEEP ALL THE BONUSES Valued at $76.87 FREE as MY GIFT TO YOU!
With this video piano lesson program you have my word that I will give you the absolute best information on how to become a better pianist, a quality improviser and an outstanding performer.
Each lesson in the series is the highest quality video and you can review it as often as you want at a convenient time of your choosing. Now's your chance to get in on the most comprehensive online piano lessons course on the internet... or anywhere else for that matter.
Remember, average people look at cost... people who want results look at VALUE!
If you have further questions about our policy or to talk to a customer service representative please dial 1-416-229-4710.



Paul Tobey
PS: As this letter wraps up, envision how much you will learn, how quickly you will learn it and how little it will cost YOU.
PPS: You don't have to order now, but consider this; the $200 OFF savings will end Christmas Day, so get started right away.
PPS: Remember the guarantee? Well, if you ask for a refund anytime within 30 days of purchase you can get a full refund and you can keep the Bonuses Valued at $78.90 as my GIFT to YOU!
---
© 2013 Pilgrim Productions Inc. All Rights Reserved. Unauthorized duplication in whole or in part is strictly prohibited.
. . . . .