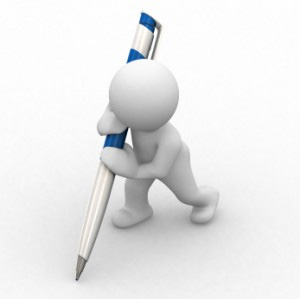 This is post #5 in a series of blog articles focusing on a Google Experiment; how to rank keyword phrases on the front page of Google using 2.5 hours a week for a maximum 90 days.
If you want to read this series from the beginning and learn some of the "how-to" steps which were taken, click here and enter to win.
So far, this week I spent a half an hour doing keyword research. I have spent no time outside of my normal time to write a couple of articles and I've spent an hour getting those articles completed and posted online. So how did I spend that second hour exactly?
I leverage a system of marketing articles, more commonly known as "article marketing." The system allows me to take an article and publicize it on various article sites online. Some of the sites I use includes; Ezine articles, Go Articles, Article Dashboard, Article City and many more.
So, your probably asking yourself, if you're publicizing your articles on all those sites, how come it only took an hour?
Because I use an efficient system for marketing articles, which saves time and ultimately money. The marketing article software that I use is called Article Post Robot and I came across it about three years ago and have been using it faithfully ever since.
Here are a few of the things it will do automatically;
a) It posts content onto various article websites by logging you in automatically.
b) It then takes the content you have written and posts it on each respective site.
c) And, it automatically logs you off eash site and goes on to the next one in order.
One of the main benefits of marketing articles with this program is launching your campaign with the click of a single button. Although the software takes some initial set up, it creates long term time saving and benefits.
Many people talk about marketing articles, yet few offer up the answer, on how to save time and get a big result. Part of the software's initial set up includes; registering for article sites which are more relevant, valuable and more popular than others.
Other great ideas on how speed up your marketing articles process are; auto-filled forms, as well as other easily attainable software and plug-ins that will help you through the process more efficiently.
So yesterday, here's exactly how I spent my time. I signed up for two new article sites, which I had not been a member of previously. Normally I do five, which doesn't take that much longer, but I only had an hour.
I modified the context of the article to work better with search engines.
There are several ways to do that. One of the best ways is to make it seem as though you are not posting duplicate content. You must do this because search engines such as Google, like to see different content, and not duplication.
If you want to know how that works exactly, you'll have to purchase a copy and work your way through it. The end result will be; your content spread around the internet. The value is that people will click the links in the bio section and follow the link. The multiplied effect is that when a search engine crawls the article, how it sees your strategic links which then affects your search ranking results.
If you want to know more about the marketing articles software and purchase it at a 30% lower cost than retail value, click here to leverage my buying power and get this extremely valuable marketing article software working for you today.
Also as a bonus, when you purchase the software, you will also receive a video I created, which explains how to configure the article marketing software to work even better than what it was designed to do. In other words, I'll share with you my unique proprietary marketing articles formula in one highly valuable "how-to" video.
To learn more about participating in a Google Experiment, where you can actually try out this software, you must click here to enter to win.
This article marketing post was developed by internet marketing expert, author and trainer Paul Tobey on December 7th 2010.
For any updates on software, please visit the Paul Tobey Recommends page.