Thank you, your "Top 6 Ways to Reduce the Ringing" video report is on its way to your email inbox.
Paul Tobey's Complete "Tinnitus Free Living Program" Has Helped Thousands Of Tinnitus Sufferers Worldwide
Great News! As a brand new subscriber we're pleased to offer you the complete "Tinnitus Free Living Program" at an extraordinary 50% discount. Now only $97 $47
This special offer ends in…
[ec id="1″]
What is the "Tinnitus Free Living" program?
This is a self-directed training program designed to help tinnitus sufferers learn behaviors that will result in a more productive "tinnitus-free" life. There is a combination of eBooks, audio recordings, exercises, habit forming directives, articles and more. This body of work has been assembled entirely by notable author, speaker, business owner and tinnitus expert Paul Tobey.
When will I be able to start this tinnitus treatment program?
Immediately after ordering you will be sent to a download page where you can download all of the audio files, exercises, and bonus programs. You can get started right away.
How much effort will I have to put into this program?
Like any program of value, you will have to put as much effort into it as you need to get a result. This program will require you to follow guidelines and change certain habits. It generally takes between 17 and 90 days to change a habit. Once you form new more empowering habits, your life and your results will change dramatically. This is unlike any other tinnitus treatments on the market and will compel you on a deeper level to make changes in the way you look at things.
What types of things will I have to do?
I would highly recommend that one of the first things you do is take 15 min. out of day one and listen to the tinnitus meditation CD.  Then, I would spend some time listening to the audio programs, tinnitus treatments and completing the written exercises. This program is as much about information as it is about strategy. The two of them combined will help you decide what direction to take with your life that will ultimately aid you in reducing your tinnitus volume and lead and ultimately empowered and stress-free life. You will also be guided on what to eat and drink in your diet sothat you can get an immediate impact on your tinnitus volume.
"I have been suffering from tinnitus for almost a year now. I recently downloaded your 2-part London seminar from the internet and it has really opened my eyes. I am starting to think now that maybe the tinnitus is a sign that I need to make some major changes. I want to say thank you for your insight. You are an inspiration to me and I'm sure to many many others."
"Paul you have made me feel empowered. You have given me something that all the money in the whole world could not buy, hope and inspiration. I want you to know i think you have changed my life. From this moment forward I shall no longer dwell on my tinnitus (try anyway and that is a start hey). I shall no longer think i cannot do something because of my tinnitus. I shall not let it hold me back, I shall use it in every way possible, to remind me how short and fragile life is."
Are you a licensed tinnitus practitioner?
No. However, as an author, speaker, business owner, trainer and coach I have helped thousands of people not only with their tinnitus treatments but, with directions in career, business and life. Experience comes first. And, in my life I have experienced a great deal of change based on information that I have disseminated from my own teachers, mentors and colleagues.
Are there any other hidden costs to this tinnitus treatment program?
No, there are no additional charges or anything extra to purchase. There are no monthly fees and you will not be ordering any pills or medicine.
Is the money back guarantee for real?
Yes, you have 56 days to decide whether this program is for you or not. I would highly recommend that you just try it but not with the mindset that you expect it to not work. I would do it with a clear expectation that it will do you a world of good.
Does it matter what kind of tinnitus I have?
No. Almost everyone has a different form, volume, location and description of their tinnitus. This program does not focus on what type you have but rather focuses on what you can do about it.
"Paul, as much as it pains me to not seek an instant cure, that doesn't appear to exist anyway, I know your advice is the right path. Your voice resonates more clearly with me than any other I have found so far. Especially with regards to stress and anxiety, something I have had all my life."
"I will work on your suggestions and I think they are very good!! Thank you so much! You are so right that this is a warning signal to change!! Thank you!!"
I only have a little bit of tinnitus and it doesn't bother me that much is this program for me?
Yes, I believe so. This program,  although designed specifically for tinnitus sufferers, is ultimately for anyone who wants massive change in their lives for the better. I just happened to be and ex-tinnitus sufferer who has a lot of experience in how to go from where you are now to where you want to get the quickest way possible.
I am new to tinnitus and I'm not exactly sure what I should do about it?
The first thing that I would do is consult a professional. However, after discussing the many tinnitus treatments that you could engage in, I encourage you to come back and check out this program when you're ready.
There are many other tinnitus treatments out there. How do I know which one is for me?
Having tried them all, or at least 99% of them, none of them worked for me. You can't take a pill and expect tinnitus to go away.  That is extremely rare. And although many people have claimed that they have been cured by this procedure or that drug, there are no 100% guaranteed cures in the marketplace. Therefore, while I am also not claiming that this is a cure, it is your best bet in the moment to put you on a new direction to what you ultimately want in your life and move you quickly away from what you don't want.
Is there anywhere I can do more research on you, Paul Tobey?
Absolutely. If you search for the name Paul Tobey in Google you will get approximately 300,000 search results most of which refer to my music career, my business career and my information about tinnitus. I encourage you to do as much research as you wish.
"It was very inspirational to hear your audio about what has helped you heal. I'm going to use my tinnitus to help heal all aspects of my life as well. I believe, as you pointed out, if we focus on what we want spiritually, mentally and emotionally then the physical changes will follow. Thanks again for your help."
"It was very inspirational to hear your audio about what has helped you heal. I'm going to use my tinnitus to help heal all aspects of my life as well. I believe, as you pointed out, if we focus on what we want spiritually, mentally and emotionally then the physical changes will follow. Thanks again for your help."
"My most effective tinnitus treatment after 14 years!"
This special offer ends in…
[ec id="1″]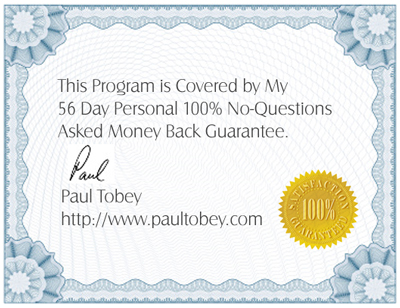 Please Note: This is a fully downloadable digital system and NOT a physical CD. You may however choose to burn the audio files to a CD yourself in order to play it on your CD player for your own personal use. If you want the CDs and Workbooks shipped to your door please call our offices at 416-444-7767.
(Extra Charges Apply to shipped orders) You will gain immediate access to this system, as soon as your order is approved.
© 2016 Pilgrim Productions Incorporated – All Rights Reserved