Walkin' In a Winter Wonderland
FREE Piano/Guitar Sheet Music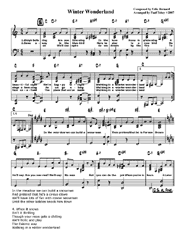 Hurry, This Offer Expires In...
Download Now - It's FREE!
WINTER WONDERLAND PIANO SHEET MUSIC
Step 1 – Fill Out the Form | Step 2 – Confirm Your Email Address | Step 3 – Receive Download Link
There is a Story Behind This Arrangement of Winter Wonderland
Back in 2003, I recorded my first Christmas album entitled "Christmas at the Piano." Since then, I have received many requests for my jazz piano arrangements and have sold literally thousands of pieces of my original arrangements for Christmas songs online.
For the past several years my focus has been more on business than music, even though I spent 22 years as a professional musician. Having said that, I'd really like at some point to get back into music. If I'm going to do that, I will have to literally start building audiences all over again. I'm prepared to do that and at the same time, I know that in order to do that, I'm going to have to help you along the way.
So, from time to time I will be offering free music in the form of downloads of my recordings, sheet music, and even video. Please register your name above to be on my mailing list to receive free stuff.
I'm starting off the free stuff campaign with this version of Winder Wonderland. It's full of rich chords and chord symbols for the more advanced musician. I know you'll enjoy it. Please record your version of it and put it on Youtube if you get a chance.
Merry Christmas,
From Paul Tobey
Here are the lyrics to this popular Christmas Classic
Sleighbells ring, are you listening?
In the lane, snow is glistening
A beautiful sight
We're happy tonight
Walking in a winter wonderland
Gone away is the bluebird
Here to stay is a new bird
He sings a love song
As we go along
Walking in a winter wonderland
In the meadow, we can build a snowman
We'll pretend that he is Parson Brown
He'll say, Are you married?
We'll say, No man
But you can do the job while you're in town
Later on, we'll conspire
As we dream by the fire
To face unafraid
The plans that we've made
Walking in a winter wonderland
Ah yay, winter wonderland
Oh yeah, winter wonderland
In the meadow, we can build a snowman (in the meadow we can build a snowman)
And pretend…