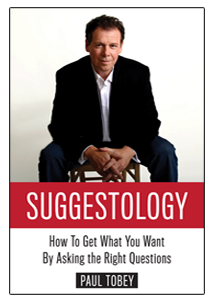 SUGGESTOLOGY by Paul Tobey
How to Get what you Want By Asking the Right Questions
What has to happen in your life, professionally and personally, for you to feel really excited and ultimately satisfied with your results? Whether your dream is to ascend to corporate greatness, live financially free, travel the world in style or attract your ultimate life partner, you must learn, understand and implement the multitude of concepts contained within this book. Unlike most other books that focus on either professional or personal development, this book contains both. It goes beyond mere how-to's and dives into the laws of intention and action. What is Suggestology? It is the starting point for learning and once you finally discover its power, you will never settle for average results again. 
You will learn:
How to clear out limiting beliefs and prepare yourself for success
Why most people don't get what they want and how you can learn five essential steps to manifesting anything you desire
Why Suggestology is the key to connecting with other people and how to get them to take the action you want them to take
The key ingredient missing from the law of attraction that will guarantee your success
How to practice being wealthy so that you can attract wealth
The ultimate sales template and step-by-step instructions on exactly how to close the deal
The number one rule of successful businesses and how to implement it immedi­ately
Key hypnotic marketing concepts that will increase on line conversions
How to leverage the Internet and social media to grow the perception of leader-ship and grow your reputation
VALUABLE BONUSES INSIDE!
This book contains links to download written exercises, videos, audio recordings & software valued at over $200.
 Retail Price $24.97 CAD + Shipping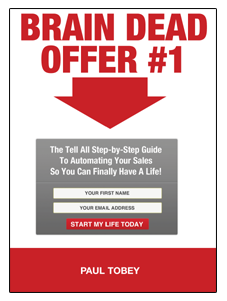 BRAIN DEAD OFFER #1 by Paul Tobey
The Tell All Step-by-Step guide To automating your Sales So You Can Finally Have A Life!
This books contains detailed information about how to automate your digital marketing.  It starts with the creation of targeted traffic, moves onto lead capture then how to automate your back end using Infusionsoft. There are screenshots of live examples and step by step instructions on how to set things up.
Whether you are running your own small business or you're the CEO of a Fortune 500 empire, you will want to read and absorb the marketing methods in this book. You will learn why you need to become a world-class Digital Marketing Officer, or need to hire and train one for your company. You will learn how to stay current, be relevant and become adaptable to forward-thinking digital information that can have a massive positive impact on both your professional and personal outcome.
At one time the concept of the Brain Dead Offer didn't exist and it didn't need to. Today, however, it is easily the most important marketing strategy there is. Why? Because the customer has adopted, and adapted to, a more sophisticated and information-filled world. Take the moving industry, for example.  In today's world customers do their research on their phones over lunch by checking out the competition, tracking online reputations, comparing prices, looking up deals or coupons, polling their friends through e-mail or relying on the feedback of total strangers through their social media channels.  All this just to make a simple decision about a moving company!
Let's face it, the days of simple selling are over. And as a business owner, on top of all of the duties and responsibilities that you have to take care of on a daily basis, it is now super-critical for you to add to your arsenal of skills the knowledge and experience of a Digital Marketing Officer. If you want to dramatically increase your leads, tighten up your conversion processes and power drive your sales upwards, then you must begin to learn as much as you can about the new world of online marketing. The good news is, of course, that you can start immediately with what you're about to learn in this book.