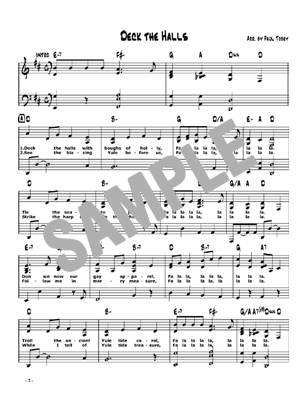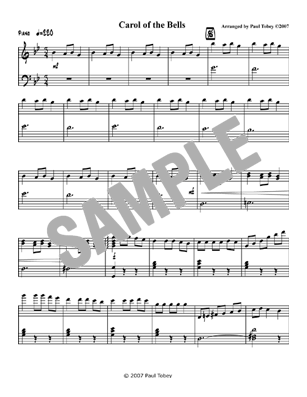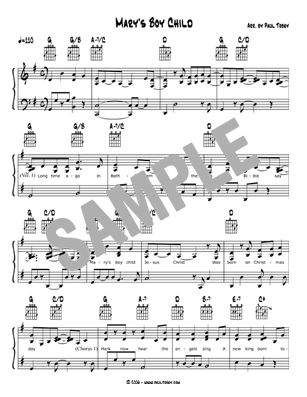 "Paul's creativity in making another song his own is really something to experience. I felt very blessed to have been present to see, hear, and feel, such great entertainment!"
Gail Obediah
"The (Christmas) CD is fabulous! I had to miss the concert because I had already purchased tickets for the folk festival that was being held on the same date, so I was thrilled to be able to buy the CD. Some of my friends had attended the concert and they all raved about it; now, at least I have a part of it."
Mary Gladwin
"Paul Tobey's playing is magical: the energy, musicality and fantastic technique made the concert a most memorable one. Paul sets out to entertain, and excels in this department. I felt that I was not only asked to listen and observe, but also to participate share and learn, and this made my experience unique in concert-going. Paul Tobey sets the bar higher in the world of musical entertainment. Bravo Paul!"
Dr. Mary Ann Gorcsi, B. Hon.Mus, MD, CCFP
"Paul's music has broad appeal, his jazz takes risk while still remaining extremely listenable and enjoyable. Paul's humor and knowledge made this a memorable visit. He is absolutely charming, witty, and very entertaining. It was a night to remember and a night to boast about. My wife and I plan to return again and again."
Martin Sarkissian
Executive Realty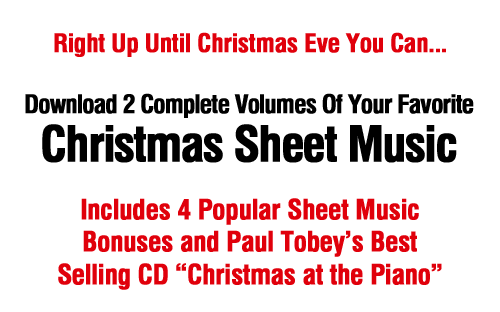 Christmas at the Piano Volume 1

Enjoy 14 of the most Popular Christmas Classics professionally arranged for piano using rich jazz voicings and upbeat rhythms.

Featuring...

Christmas at the Piano Volume 2

16 Popular Christmas Classics to add to your sheet music collection.

Featuring...

Winter Wonderland
Jolly Old St. Nicholas
Angels We Have Heard on High
Island Christmas
O Holy Night
Up On the House Top
Good King Wenceslas
Bring A Torch, Jeanette Isabella
O Little Town of Bethlehem
O Christmas Tree
We Three Kings
While Shepherds
O Come Emanuel
Auld Lang Syne

Paul Tobey's Christmas at the Piano Best-Selling CD

Christmas at the Piano is Paul's most popular CD and it is sure to become one of your all time favorite Christmas CDs.



Listen to this recording over and over as Paul plays his original arrangements of...

Little Drummer Boy
Carol of the Bells
O Christmas Tree
Children's Christmas Medley
The Christmas Song
Most Wonderful Time of the Year
Jesu, Joy of Man's Desiring
Christmas Carol Medley
Angels We Have Heard On High

Plus Paul's original composition "Island Christmas"

North America's Best-Selling Sheet Music Arrangement of Carol of the Bells

Carol of the Bells has become a much sought after Christmas Sheet Music Classic.

Now you can own this beautiful and exciting Paul Tobey arrangement, yours FREE when you purchase the Christmas Sheet Music Collection.


Mary's Boy Child Piano Sheet Music

Made Popular by Boney M, this is a special piano sheet music arrangement by Paul Tobey.

Imagine impressing your friends with this beautifull arrangement.




Music Box Dancer Piano Sheet Music

Written by Frank Mills, this is Paul Tobey's own arrangement of this popular piano hit. This song can be played all year round at parties and recitals. People will love it.

Amazing Grace Piano Sheet Music

What else can be said about this classic piece of music? Just this... You won't find a better arrangement for piano anywhere.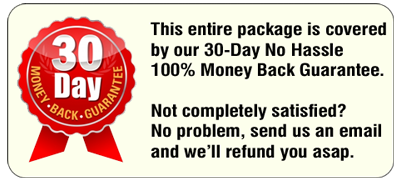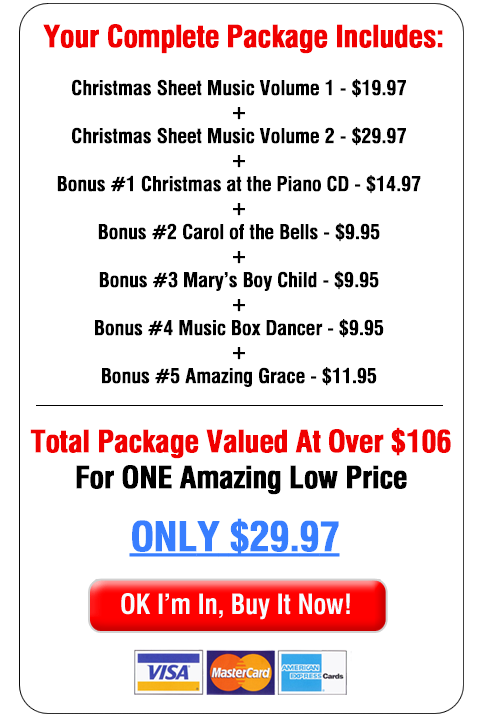 I am thrilled to be able to offer you this exclusive package that you will not find anywhere in stores or elsewhere on the internet.
When you perform these arrangements you will sound great and your performances will be inspiring to everyone who listens.
I wish you a very Merry Musical Christmas,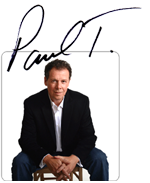 P.S. While you consider this offer, try to imagine how much you will save by ordering today.
P.S. After ordering, practicing and performing this music, drop me a line and let me know how it inspired your Christmas!
P.P.S. This offer ends Christmas Eve 2014 but I know you'll want to practice well before then so go ahead and download it now.

Your Information is 100% Secure With Us And Will Never Be Shared With Anyone.